ROCCA JANULA - 21 SETTEMBRE 2006
Data: 26-09-2006

Autore:
ROBERTO MOLLE

Liste:
ARTICLES IN ENGLISH

Categorie:
Cronache

Tag:
#today
,
commemorazioni
,
monumenti
,
rocca-janula
ROCCA JANULA - 21 SEPTEMBER 2006
21 September 2006, at 10.32 in the morning under a clear sky - of the lightest blue... time stopped on Castello di Rocca Janula, Point 193; the English called it simply "The Castle Hill".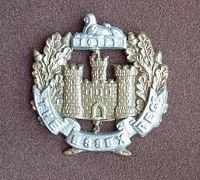 It is the unveiling and dedication of a plaque in memory of the fallen of the 1/4th Battalion of the Essex Regiment. Present are eight veterans of the Italian Campaign, three of whom took part in the attack on the castle on Hangman's Hill. Among them was Bill Hawkins, one of the representatives of the Battle of Cassino. Proud in his beret, standing with crutches... they salute their military honours... and stand in silence for the Act of Rememberance.

You remember not only all the Essex Regiment soldiers who bled and died on these rocks, showing great courage, but also all who fell in the terrible Battles of Cassino.

In my thoughts are all the veterans who in recent years we have been fortunate enough to meet, to know and to listen to. Their faces show great pride, despite the fact that they are over 80 years old... all remembering the terrible moments indelibly stamped on their memories in their youth.

It is a legacy which we will always treasure. We recall the people who have left us, and in particular among all of these we remember Rudolf Valentin. He took part in the the German attack on the castle, it was also his ceremony... the castle, one of the biggest symbols of the battles, belongs to the veterans of each nation.

Bill and Rudi met three times at Cassino and they became friends... a sign of peace that began in Cassino and extended throughout the world.

It was time to move to the Commonwealth Cemetery for another very touching part of the day of commemoration.

There, with palpable emotion in all those present, followed a service of rememberance for all the ranks of the 1/4th and the 5th Battalions of the Essex Regiment who gave their lives in the liberation of Italy; a simple and sacred ceremony that can happen only here.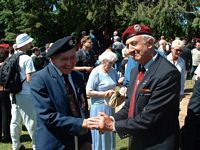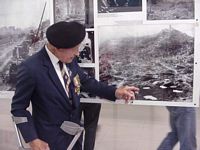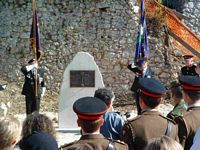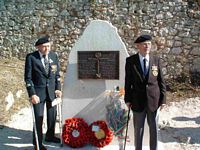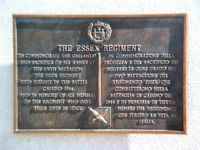 Nel caso in cui il testo derivi sempicemente dall'esposizione, con o senza traduzione, di documenti/memorie al solo fine di una migliore e più completa fruizione, la definizione Autore si leggerà A cura di.
Articoli associati
GERHARD E LO STUG III DI ROCCA IANULA
Roberto e Alessandro incontrano Gehrard, un reduce tedesco, e dai suoi racconti traggono inedite e molto interessanti notizie circa la presenza di uno SturmGeschutz III vicino a Rocca Ianula durante la terza battaglia di Cassino.
09/05/2003 | richieste: 14681 | ROBERTO MOLLE
ARTICLES IN ENGLISH | Testimonianze | #marzo 1944, #today, nippo-americani, rocca-janula, sturmgeschutz
[English version]